Tonight 11/26/2012 is Black Media Appreciation Night – y'all come!
"Black Media Appreciation Night is a very important event – all these movers and shakers who cover what's going on in our community from our viewpoint are coming together," filmmaker Kevin Epps ("Straight Outta Hunters Point," "Rap Dreams," "Black Rock," "Fam Bam") told Minister of Information JR's Friday night Block Report audience on KPFA.
"It's important for us as a community to patronize ourselves, validate ourselves. This is monumental. I hope people come out to support this movement," Kevin said. JR summed it up: "Support media that support you!"
Black Media Appreciation Night is tomorrow, Monday, Nov. 26, 8 p.m., at Yoshi's, 510 Embarcadero West, Jack London Square, Oakland. Click HERE for tickets and info. If you haven't made plans yet to be there and aren't sure why to support the Bay View, the Block Report and other independent Black media, listen to this:
"After 12 years I have finally made it to a halfway house," writes a prison subscriber and friend from Georgia. "I write you, Sis. Mary and Bro. Willie, because through my entire struggle behind the walls, your paper has played a major part in my political and cultural awareness. …
"The Bay View has been my strength no matter what I was going through in SHU or close confinement. I could look to coverage of Comrade George, Big Tookie Williams, Oscar Grant, Mumia, Sundiata Acoli, Hugo Pinell and Khatari Gaulden, to name a few, and see that my situation was nothing compared to theirs, which helped me continue my fight. I urge every able-bodied person to support your paper."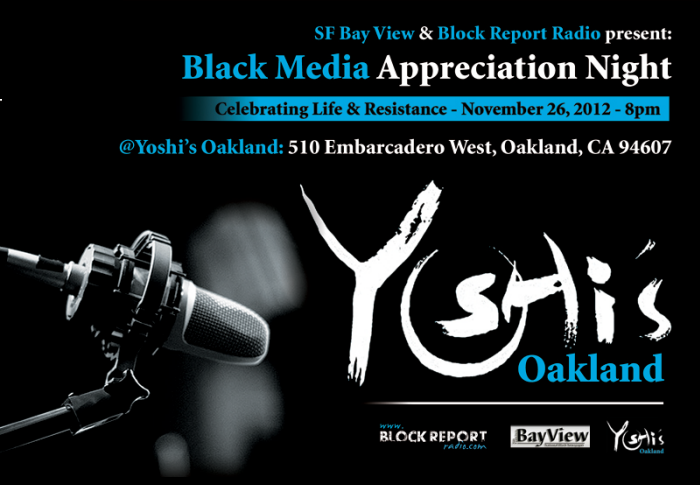 Just posted at sfbayview.com is a wonderfully warm and revealing conversation between Black media OGs Terry Collins and Willie Ratcliff, Terry Collins and Willie Ratcliff, the OGs of KPOO and the Bay View, discuss life and Black Media Appreciation Night
, illustrated with photos of the star-studded cast who will look for you tomorrow night. 
Ellen Zuckman
, a volunteer who's incomparable at posting stories, is putting the finishing touches on it as I write this.
Scroll down to the end of the Collins-Ratcliff interview for a list of 
awards
 and 
awardees
 and of the 
performers
 we'll applaud tomorrow night at Yoshi's. I also want to thank and acknowledge our official photographer for the event,
Malaika Kambon
, videographer 
Idris Hasan
, flier designer 
Codi Smith
, and Hunters Point's favorite son, artist 
Malik Seneferu
, who is handcrafting the awards; each will be a work of art.
Special thanks, too, to Michael DeFlorimonte, better known as 
Michael D
, whose promotional emails go out to 60,000 people, for pulling together the top 10 Black publicists in the Bay Area, who volunteered to help us get the word out about 
Black Media Appreciation Night 
– committing themselves to filling every seat at Yoshi's tomorrow. Tickets are $30 in advance and $40 at the door.
Need one more reason to join the crowd tomorrow night? Come wish 
Willie Ratcliff
 a happy 80th birthday – Nov. 26 is 
Donald Lacy
's birthday too – and let's sing Stevie Wonder's birthday song to them both.
Never before in the 20 years we've been publishing the Bay View have Willie and I sponsored such an ambitious event. We need you to be there to share the joy with us and to make 
Black Media Appreciation Night
 such a success we can hold it annually. Next year we may be applauding YOU.
LATEST STORIES AT SFBAYVIEW.COM
News & Views
Vote 'United for Community Radio' for the KPFA Local Station Board
Resistance to Martelly regime grows in Haiti
Occupy Sandy, from relief to resistance
Amid calls for more war crimes, Israel minister hopes attacks will 'reformat' Gaza
Sandy aftermath: Humanitarian crisis in Coney Island projects
UK Parliament: Is budget support providing Kagame cover in Congo and Rwanda?
Behind Enemy Lines
Culture Currents
* * * * *
Check the Bay View Calendar of Events daily. You're sure to find an event that beckons you to get involved – and many are free!
Support SF BayView with a donation to the Prisoners Subscription Fund. Prisoners say, "The Bay View keeps me alive," and hundreds are waiting to be placed on the Bay View mailing list.
Find a friend among the Bay View 
Pen Pals
, who write, "I would love to hear my name at mail call."
Looking for a job, a contract, affordable housing or a scholarship or other opportunity? Check the BayView Classifieds today.
If you want folks to know about your business or service or event, Advertise in the Bay View, online or in print. Call me any time at (415) 671-0789.
Finally, follow the Bay View on Facebook and Twitter – and lead everyone you know to do the same.
Mary Ratcliff, editor